THE LAVANDIČRES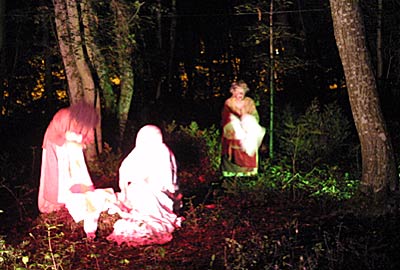 Shining Moon, Stars so bright,

Make these clothes clean and white,

Shining moon, stars so bright,

Working in the dead of night,

WORKING FOR THE DEAD AT NIGHT
At night you see them. The washerwomen. The Lavandičres. They take their clothes to the river's edge, rinse them and beat them clean upon the rocks. The sheets are made white and spotless, to act as shrouds to the bodies of the dead. If you hear the sound of clothes being washed in the river at midnight, don't be tempted to go and look. Please don't look. Stop up your ears, walk away very quickly and pray it's not you that they're washing for.
A woman from the village heard them working and singing and chanting. Curiosity got the better of her and she went to see what was going on. It was midnight. She stood looking at them, but they carried on working as if they hadn't seen her, as if they didn't know she was there. But they did. She returned home to find her husband dead.
One young man, a farm worker, was walking home from the local bar late one night after several glasses too many. He saw the Lavandičres at their hard and grim work. Full of drink he called out to them:
"It's a bit cold and dark for working, isn't it, ladies? You'd be better off coming for a glass of eau de vie with me!"
They took no notice. They just carried on washing their clothes.
The young farm worker was not to be put off. So he called out to them again:
"Mind you, that shirt's come up lovely. And it looks as if it would fit me a treat."
The Lavandičres looked at each other and smiled.
"Oh, it will," they said, "perfectly."
Feeling the night's chill more keenly, and deciding that he was getting nowhere with these ladies, the young farm worker went home and fell into his bed. He woke up the next morning covered in sweat. It was a bitter cold morning, but he was hotter than the fires of Hell.
Two days later he died of a fever. How fine he looked in his clean, white shirt.

Shining Moon, Stars so bright,

Make these clothes clean and white,

Shining moon, stars so bright,

Working in the dead of night,

WORKING FOR THE DEAD AT NIGHT
Sometimes it's the church bells you hear first, solemn, dark and distant. Sometimes you hear the bells even when there's no church for miles.
Marianne's husband Yohan was a sailor. He'd been away for months, half way across the world, but would soon be home. Marianne went to church to light a candle to her favourite saint and pray for Yohan's safe return.
When she arrived at church, she heard the bells ringing. But the church tower was silent. There was no bell ringer, no verger, not even the parish priest. In fact, the church door was locked. She was alone with only the solemn and distant bells for company.
Unable to light her candle or pray before the statue of her saint, Marianne went home, disturbed by what she had heard. By now it was dark. As she walked close by the river, she could hear women singing in the distance. It was a sad, mournful song.
She didn't know about the Lavandičres. She didn't know that at that very moment Yohan's ship was caught in a storm off the coast of Concarneau. She didn't know that Yohan was in the terrible waters of the fierce waters of the Bay of Cornouaille, fighting for his life.
Two days later Yohan came home. He was wearing a beautiful white gown. They found his drowned body on the beach and brought him back to Marianne.
Every night the Lavandičres are at their work, washing their clothes in the icy waters and beating them clean against the smooth hard rocks. They were always busy, there were always poor souls to be dressed for their final journey.

Shining Moon, Stars so bright,

Make these clothes clean and white,

Shining moon, stars so bright,

Working in the dead of night,

WORKING FOR THE DEAD AT NIGHT
© John Edgar 1999